Free Same Day Delivery - Reidys Home Of Music
Selling the Dream Since 1922
Established in 1922, Reidys Home Of Music is a family-run business that provides the UK with a huge range of musical equipment.
Thanks to over 90 years experience, Reidys has become the go-to company for musical instruments in the North, from entry-level guitars to premium-grade grand pianos. Now in a brand new superstore in Blackburn, Lancashire; Reidys is home to the largest guitar wall in Europe, a comprehensive range of digital pianos, as well as a huge range of other instruments, amps, studio gear, sheet music and accessories.
With staff specially trained in the USA, Germany, Japan and every other corner of the world, Reidys can help you choose the perfect instrument tailored to your needs and answer any questions you may have. As an official dealer for Gibson, Yamaha, Fender, Roland, PRS, Taylor, Kawai, Martin, Casio, Trevor James, Orange, Marshall, TC Electronic and many more, you can browse the best brands on the planet, all in one place!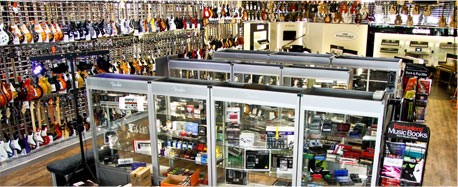 Reidys also offer 0% finance on items over £280 and welcome part exchange if you're looking to upgrade. It doesn't matter if you're coming in to choose your first ever instrument, or if you're a seasoned pro, at Reidys, you not only get a massive selection to choose from but you'll get friendly and honest advice from experts that have been in the industry for years.
You'll find them in the heart of Blackburn on the bottom floor of Fielden Street multi-storey car park where parking is free at weekends and after 3pm Mon-Fri.
QUOTE 'XS MANCHESTER' FOR FREE SAME-DAY DELIVERY*
Discover more at www.reidys.com
*only orders on items in stock, over £500 and if ordered before 12pm